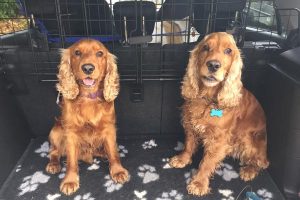 I am very lucky to have 'found' Sue as I was dreading going on holiday and not being able to take my dogs. I couldn't believe how lucky I was to find someone as special as Sue who genuinely loves animals and her life is spent with dogs and horses!
I was dreading putting my boys in 'kennels' as I knew they would hate it – but Sue offers the complete opposite! Her home is their home! They are treat as her own and they are allowed to freely move around her home as they would in your own!
On top of this she takes my boys on wonderful walks – topped off often with a massage!!! It's like a health spa for very lucky dogs!
I always take my dogs to Sue as I know how well they are looked after and how they like to go on their holiday too! Sue is a very kind and knows how hard it is to leave your dog and she sends me regular photos of their antics whilst I am in my holiday – which is a lovely touch.
I'm sure if my dogs could pick where they would like to go on their holiday it would definitely be with Sue !
Many thanks
Linda