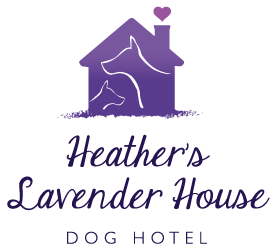 Heather's Lavender House Dog Hotel is based in the rural village of Strensall in York. We offer home from home dog boarding with all the home comforts that your dog deserves, after all, this will be their holiday.
We have dogs staying with us just for the night, long weekends and longer periods. So you can go away and relax knowing that your lovable pooch will be relaxing here with me and my family.   At the dog hotel, your dog will be cared for as a family pet and be given lots of fuss and attention. You can rest assured that your dog is being cared for in the way you would. We have fantastic walks on our doorstep with woodlands, moors, and water. All our guests have lots of playtime fun and for those guests of a certain age, or the really young who need their sleep, we have a quiet room.  We groom and check all our dogs daily making sure that they are fit and well. Some dogs can find boarding kennels incredibly stressful whereas at Heather's Lavender House dog hotel they will be on their own special holiday!
Benefits of Heathers Lavender House: 
Home from home comfort where your dog lives as part of our family in our home with his own bed, food and toys and we will give him lots of love & care.
Our home is surrounded by Woodlands, water and country paths, everything your dog loves to explore on his/her daily walks
All dogs that stay with us are sociable and we assess each one making sure that we feel happy that they will fit in with other dogs that are staying here at the same time.
Most dogs love the company of others and of course humans too, they also like to have one on one time which we provide throughout their stay.

 

This reassures them that all is well and they are much loved like our own.
We have a lovely spacious and secure garden where we have lots of playtime fun, with games, toys, agility for the energetic, and a pool for the warmer days.
We cater for the individual needs of all our guests.

 

So, if your dog isn't particularly keen to join in, he/she will not be left out, there is always time for cuddles whilst the others play.

 

And the walks are tailored to your dogs needs too, the fitter and younger ones will have two good hourly walks a day, the very young the elderly and dogs with a physical problem will be taken on shorter and easier walks.

 

We are happy to administer medication either orally or topically
We do make our own healthy dog treats and should your dog have a birthday during their stay, we do enjoy a party!
Before your dog's stay I always ask for you and your dog to visit here so they can familiarise themselves with me and my home, this always helps in settling them on the first day of their holiday with us as they do remember their first visit. You will go away leaving your dog with us with complete peace of mind We aim to cater for your best friends every need because he/she is worth it! Not only do you get to go on holiday but so does your dog too, and we will have photos to prove it We are licenced with City of York Council and have been Awarded 5 Stars Fully insured and DBS checked for your peace of mind My qualifications are: Ofqual level 2 in Canine Care and Behaviour COPD Canine Communication higher distinction COPD Canine Psychology Higher distinction Canine First Aid Reiki Master for Animals, Distinction in Essential Oils for Animals & Equine Body Work
Rate : £30 per day (Or part there of) 
Charges start from the day they are dropped off and include the day they are collected – therefore a minimum of 2 days are charged. Bank holidays are extra – Please ask for details.
IMPORTANT INFORMATION 
IF YOU ARE AT ALL CONCERNED WITH THE WELL-BEING OF YOUR PET  PLEASE CONSULT A VET FIRST. HOLISTIC HEALING IS NOT A SUBSTITUTE FOR VETERINARY CARE & ATTENTION. ONLY A VET CAN DIAGNOSE AND / OR PRESCRIBE.