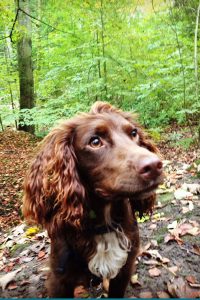 Our two year old working cocker spaniel is a sensitive and at times an anxious boy, however from the time of induction with Sue, to this present day we have seen a huge change in his physical and mental attitude.
Sue has at times used the oils on him when she has observed this would be of benefit should Busky show signs of anxiety on the day she cares for him. The oils prove positive and alleviates any stress or anxiety busky may be presenting on that day.
When Busky returns home after spending time with Sue he is relaxed, content and a happy boy.
Sue shows great passion for the animals in her care and as the owner of Busky this positive sunny attitude Sue has gives me and my daughter great reassurance and contentment knowing that Busky is in a caring, calming and homely environment that Sue provides.
Kind regards
M & L