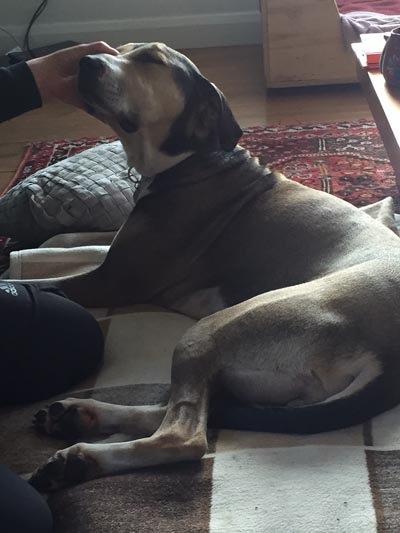 I first met Sue after she had worked with the dog belonging to a friend of mine whose husband had passed away and the dog was clearly traumatised by the loss – Lisa couldn't recommend Sue highly enough so I thought – what have I got to lose, I was desperate!
Eva came to me via the dogs home having been rescued from someone who intended to use her for dog bating. It doesn't bear thinking about what experiences she'd had. She was petrified of EVERYTHING and as a result lunged, barked and jumped at EVERYTHING – people, cars, leaves, trains, birds, litter blowing in the wind, cows, horses, dogs, cyclists…… the list is endless!
When Sue first met us she had to keep her distance from Eva and, on the first session only offered her essential oils – some of which she too by either smelling or eating. On the second visit Eva immediately relaxed with Sue and she was able to give her Reiki. Eva has since had about 6 sessions and has loved every one – lying in front of the fire and allowing Sue to treat her! There has been a marked difference in Eva's disposition since working with Sue – she's calmer generally with people, no longer petrified of anything and everything which means we can go for walks and she can enjoy the time spent outside, out of the list above of the things that terrified her the only outstanding scary issue for her is other dogs and that's getting better! Overall it's a radical difference, to Eva, to managing her and to life in general. I think she trusts me more, obviously this is born out of time spent together but I have no doubt that Sue treating Eva gave her an opportunity to relax, feel how it feels to relax, faith that we understood her, and an openness to help her.
I can't recommend this form of therapy enough, and Sue is an absolute pleasure to be with. It's very refreshing when you meet people who are professional, skilled, passionate, knowledgeable and dedicated to their craft and Sue, without doubt is one of those individuals.
Sue – thank you xxxxx
Natalie B