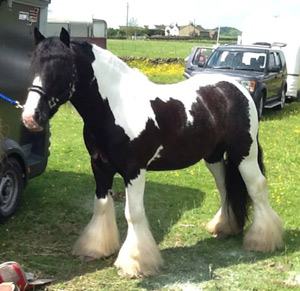 I bought our little cob Frankie for my son in 2013 from some local travellers who had had him for most of his 8 year life. He was very nervous, head shy and very unpredictable.
Once winter came my son lost interest and I was left looking after Frankie along with my other 3 horses. I began to ride him but at this point I never really clicked with him as he was difficult to ride as he had driven most of his life and was very strong and just when I thought I was getting somewhere he would go back to been difficult, strong and even dangerous at times.
I decided to move yards with lots of space and a big herd of horses and in some ways he was better but in others he became worse becoming unable to catch and would not travel in the wagon alone and generally more grumpy. I decided that either he was too complex for me and pass him on to a more experienced home or I would give him one more chance and try gain his trust in humans.
I was given Sue's number from a friend and told she may possibly be able to help us , I give her a ring and booked for her to come see us. Sue came and spoke to us and at first I wasn't sure what to expect or if she could do anything to help Frankie.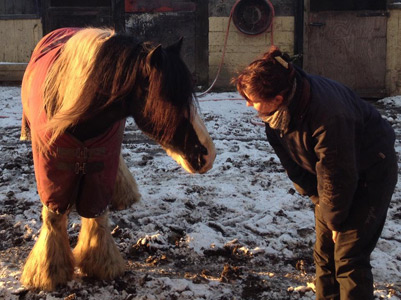 She took some notes and then began doing some bodywork on him and offering him essential oils , for the first time he wasn't frightened to death of someone being in the same stable as him usually he would try make a run for the door knocking you out of the way, but he soon became calm and relaxed in to a trance like state and he began to communicate through Sue, it then became apparent just how bad his life had been so far and why his trust in humans was zero.
I have for the first time formed a bond with Frankie and love him so much, I really can't thank Sue enough for all her help she truly is amazing at what she does and has a very special gift. I would recommend sue to anyone and feel that me and Frankie will forever be in her debt.
J & F