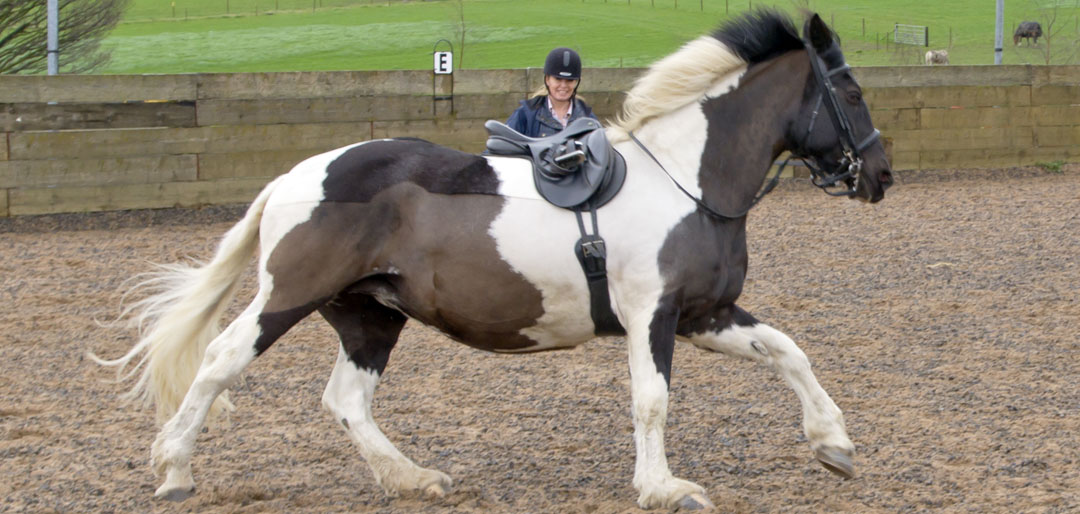 This is Maggie, a 16'3 Warmblood x Irish Draught, she is a big mare with an even bigger personality and a huge heart.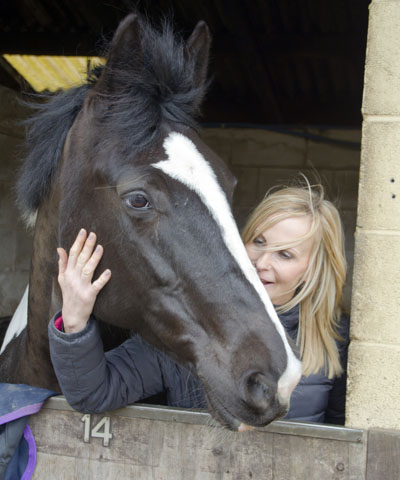 Maggie and I have been together for nearly two years, and it is fair to say that it has not all been plain sailing, in fact it has been quite a journey, a journey that is becoming easier and definitely more enjoyable thanks to Sue and her help and support.
Maggie and I had been together around five months when she went lame. I am lucky to have a fantastic vet, who quickly diagnosed Maggie with chronic suspensory ligament damage in her right hind and arthritis in both hocks. I also discovered that Maggie had endured at times, a bumpy ride prior to her coming into my life.
After discussing all the options with my vet, Maggie began PRP and shockwave treatment, alongside six months box rest and strict rehabilitation. Three months into the treatment, Maggie and I were both struggling both physically and mentally with the stress and anxiety that comes with keeping a horse on box rest and treating a very difficult injury.
This is when Sue came into our lives, after she was introduced to us by my friend on the livery yard which is home to Maggie.
Sue is a Practitioner of Holistic Body Work, Equine Zoopharmacognosy and Reiki Master. In other words Sue treats animals holistically through physical, mental, emotional and spiritual healing. But more than this (well to me and me and Maggie anyway) Sue can help you to bring you and your horse together as one.
Maggie started her treatment through aromatherapy oils, which were offered to her based on her history and injury. Maggie took Rose oil (emotion), Peppermint (inflammation), German Chamomile (stress), Eucalyptus (decongestant) and Lavender (anti-inflammatory and anxiety). Twenty minutes into the treatment, Sue told me that Maggie had a headache and was in great discomfort. Sue palpated around Maggies head and could feel slight inflammation around her upper jaw. During the session Maggie began to release thick nasal discharge from one of her nostrils, and the smell wasn't pleasant. Sue advised me to contact the vet if she continued to lose the discharge as she believed that Maggie may have an infection, or that it could be an ongoing long term problem and the oils had released some discomfort.
Maggie still had discharge the following day so I followed Sue's advice and I called my vet, and on his recommendation Maggie was taken to Rainbow Equine Hospital where they diagnosed Sinusitis caused by a tooth infection. Poor Maggie was in hospital for around ten days, having her sinus's flushed daily and treated with strong antibiotics to help treat the infection.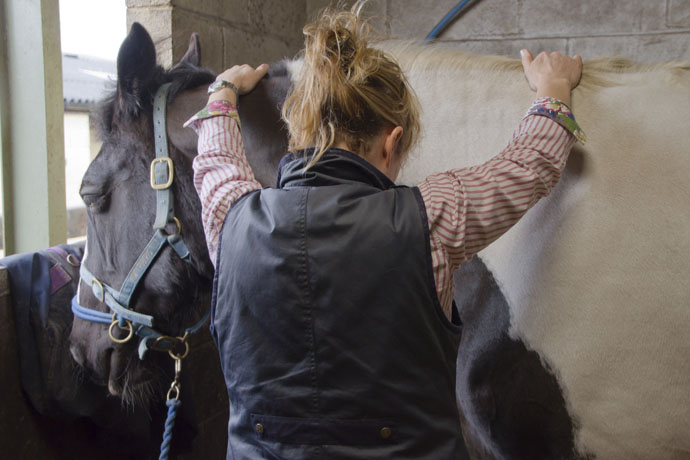 Sue helped Maggie on her long road to recovery with regular sessions of aromatherapy, massage, herbs and reiki. Maggie loves these sessions, reiki in particular as you can see from the photographs. To see her so relaxed and comfortable after such a difficult time is very comforting and just a little emotional.
Once Maggie had finished box rest, Sue supported us through the next stage of rehabilitation helping Maggie and I work together. I now know every lick, chew; blink and ear movement and Maggie and I have so much more respect for each other on the ground, on board and in the stable.
Sue has also helped us with a tremendous amount of flexion work as Maggie was very stiff after many months of pain and compensating for her injury. We have slowly changed Maggie's body condition and helped her re-gain muscle through structured sessions and massage.
Sue has also helped me to be at one with Maggie, we have worked on technique, breathing, confidence and timing, and has given us plenty of advice so that in between sessions Maggie and I can carry on Sue's good work.
At last Maggie and I are having fun, schooling and hacking out and our bond is stronger than ever. Sue is not a miracle worker, but I can honestly say without her skills, knowledge, compassion and gift for healing and bringing out the best in animal and owner we would not be where we are today.
The journey is easier and definitely more enjoyable!
Thanks Sue
Helen C xxx