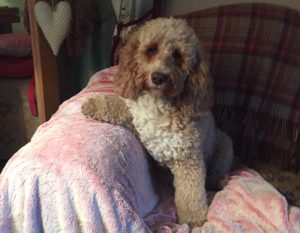 From neurotic first dog owners who fret at leaving our gorgeous curly cockapoo anywhere, in finding Sue of Heathers Lavender House Dog Hotel, our worries have all but disappeared.
Sue is clearly a huge animal lover and this comes across as soon as you meet her.  She is friendly, kind, knowledgeable about dogs and Teddy loves her.
Our boy Teddy has happily been going to stay with Sue for over 2 years now and he is in no hurry to come home!  He is literally treated like a King!
Sue brushes Teddy daily, follows the feeding routine we have and checks everything with us if there are ever any doubts/questions.
We always receive regular updates/ pictures of Teddy whilst we are away without prompting which is always fab to see.
Sue is very reasonably priced and we feel very lucky to have found such a special person to take care of our furry baby.
We would highly recommend Sue.